A comorbid or comorbidity simply means a condition that is diagnosed or is present alongside another.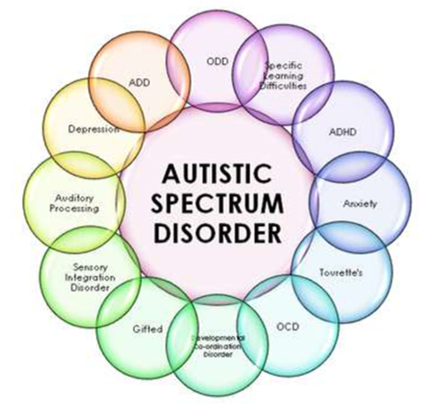 Many people diagnosed with Autism also present with other difficutlies such as ADHD or associated Mental Health problems such as Anxiety or Depression. Other examples of Comorbid conditions can be:
•Learning Difficulties
•Obsessive Compulsive Disorder (OCD)
•Eating Disorders


It is clear to get an accurate description and assessment of the individuals needs so that effective and appropoate support can be in place. Never be afraid to ask for a second opinion or question an assessment if you believe that their maybe other underlying conditions.
Mis-Diagnosis
Many individuals with autism are misdiagnosed mainly Girls as they are good at masking the difficulties and presenting themeselves to have no difficulties. It is importnat to question and diagnosis that you do not think is correct with those who carried outt he assessments.